Model C1500ME-SL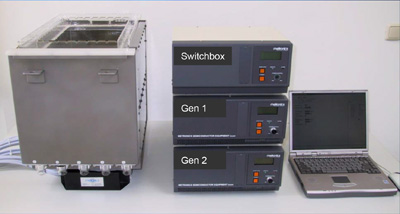 Especially designed for shadowless megasonic cleaning and etching of Si-Wafers up to 450mm Ø with megasonic power from different directions.
Following parameters can be set individually to any application and can be stored as a recipe file:
direction, time, intensity of the megasonic power.
Any numberof recipe files can be created, stored, and activated. This makes it possible for eg. to process different product wafer lots one after the other with different cleaning parametersand different megasonic parameters.
The new model C1500ME-SL is a very flexible megasonic cleaning system as the parameters megasonic–time, -intensity and –direction can be edited by mouse click and stored as a recipe file.
For any process type or wafer type an optimized megasonic cleaning program can be created and activated through interface communication.
Function principle:

Applications:
Etching, SC-1, SC-2, etc...
Final Rinsing und Quick Dump Rinsing
for process temperatures up to 90°C
Frequency:
1 MHz
Power Density:
Max. 5 W/cm²
Capacity:
For any wafer size up to 450mm Ø
Tank Material:
high purity purity, , low sodium quarz
Special Features:



Premium selected transducer elements


Fullautomated output power control of each channel


Communication Interface: SubD, RS232- or RS485 interface possible



Options:
External heater unit